It is easy to assume that the reckless actions of drivers cause all car accidents. In many cases, the simple inattention by drivers on our roads causes car crashes. The National Highway Traffic Safety Administration (NHTSA) estimates that 3,142 people lost their lives in distracted driving crashes in 2019. The use of cell phones while driving is one of the main reasons for distracted driving accidents.
If you or someone you care about has been hurt by the actions or inactions of a distracted driver, you may be entitled to compensation. An Atlanta distracted driving accident lawyer can help you throughout the claims process.
The legal team at The Super Lawyer is ready to answer any questions that you may have. We will aggressively negotiate with insurance companies and represent you in court — if need be. Call our Atlanta car accident lawyers at 404-574-4308 today to schedule your free case review. We are available 24/7!
What Is Distracted Driving?
Distracted driving is any activity that diverts the attention of a driver from the road. Actions like eating while driving, talking on the phone, or talking to passengers in the vehicle can take your attention from driving.
If you are driving at 55 mph, reading a text is like driving across the length of a football field in 5 seconds with your eyes shut. Distracted driving increases your chances of being involved in a car crash. Remember, you cannot drive safely if your full attention isn't on the road.
The National Highway Traffic Safety Administration (NHTSA) estimates that 3,142 people lost their lives in distracted driving crashes in 2019.
Types of Distracted Driving
There are many ways you can get distracted while on Atlanta roads. Driving distractions are oftentimes categorized into three sections. They include:
Visual Distractions
These types of distractions cause drivers to take their eyes off the road. Actions such as looking at pedestrians on the side of the road are visual distractions. Other examples of visual distractions include:
Looking at the GPS
Reading texts or emails
Looking at a passenger
Grooming yourself while looking at the mirror
Looking at a video on the car's entertainment system
Manual Distractions
Manual distractions happen when drivers are distracted by things involving their hands. This implies that they can't control their vehicles since their hands aren't on the steering wheel. They include:
Calling
Texting
Changing the playlist
Applying makeup or combing hair
In many cases, these distractions overlap with visual distractions.
Cognitive Distractions
These types of distractions involve the driver's mind. They are mental distractions that drift the mind of a driver even though their hands may be on the steering wheel. Cognitive distractions include:
Daydreaming
Road rage
Using a phone
Listening to podcasts or songs
Talking with other car occupants
Phones have become one of the main causes of distracted driving accidents. Approximately 97% of Americans own a phone of some kind. Roughly 85% of Americans own a smartphone. Phones involve all three types of distractions and increase the risk of road accidents.
Laws Regarding Distracted Driving in Georgia
According to Georgia's hand-free law, drivers aren't allowed to have their phones in their hands while driving. Drivers shouldn't read, write, or send emails and texts while on the road. The law also prohibits drivers from watching videos while driving on Georgia roads.
The Hands-Free Georgia Act, which took effect on July 1, 2018, also bans school bus drivers from using any type of wireless telecommunications device while driving.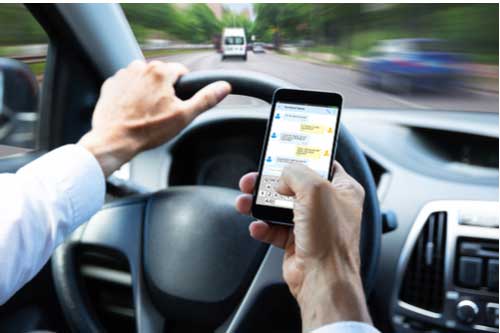 What Damages Can You Recover From a Georgia Distracted Driving Accident Claim?
After an accident involving a distracted driver, you may be entitled to receive compensation for your losses. An experienced Atlanta distracted driving accident lawyer can prove that the other driver is responsible for your accident. You can file a distracted driving claim against them to recover damages.
Here are some damages that you can recover in a distracted driving claim.
Economic Damages
These are tangible damages that can be quantified using receipts and bills. They have fixed monetary values that insurance adjusters and lawyers can calculate. Economic damages include:
Medical costs: The defendant can be held liable for any medical treatment that you may require. This may include past, present, and future expenses like hospital stays, emergency room costs, follow-up appointments, and therapies.
Lost income: It may be impossible to get back to work after a car accident. You may require days, weeks, or even months to recover. Sometimes, the injuries you sustain may completely force you to quit your job. Compensation for a distracted driving claim may cover your regular wages, sick time, bonus pay, and employment benefits.
Property damage: A distracted driver may extensively damage your vehicle. It may require bodywork, paint matching, or an engine replacement. If your vehicle is completely totaled, you may receive compensation matching your vehicle's market value. You may also collect reimbursements for personal property damaged during the crash, such as cell phones and laptops.
Out-of-pocket expenses: You can recoup payments that you make due to the accident, like nursing care, rental car costs, trips to pharmacies, and assistive devices.
Non-Economic Damages
These are intangible losses that are harder to calculate. They are mainly subjective and lack any documentation. They include:
Pain and suffering
Disfigurement
Emotional distress
Loss of consortium
Loss of reputation
Punitive Damages
These types of damages aren't compensatory damages. They are awarded in events where defendants' actions are considered overwhelmingly reckless. Punitive damages are meant to punish defendants for their recklessness.
How Long Do I Have to File a Claim in Georgia?
If you are involved in a distracted driving accident, you may be interested in filing a claim to receive compensation. However, you should note that every state has statutes of limitation for personal injury claims. These statutes specify the deadlines that plaintiffs have for filing claims.
In Georgia, you have two years from the date of your crash to file a personal injury claim. If you don't file your claim within this period, you won't be eligible to receive any compensation. With the help of a reputable distracted driving accident lawyer near Atlanta, you can file your claim on time and receive a fair settlement for your case.
Why Do I Need a Lawyer?
After a car accident, it's advisable to reach out to an Atlanta distracted driving accident attorney as soon as possible. At The Super Lawyer, our lawyers are prepared to help you with all the legal aspects of your case, including:
Case Preparation
Working with a reliable personal injury law firm near Atlanta can make all the difference in your personal injury case. The Super Lawyer is ready to build a strong personal injury claim to help you recover damages. Our attorneys will gather and analyze evidence relating to your case, including dashcam footage, police reports, witness statements, and medical records.
These pieces of evidence will enable us to determine what led to the accident and who is responsible. Once we've done that, our legal team will file a claim with the insurance companies.
Settlement Negotiations
At The Super Lawyer, we are prepared to push for maximum compensation for your personal injury claim. We will aggressively negotiate with insurance adjusters to make sure you receive a fair settlement. Our lawyers will ensure the compensation you receive covers all your damages. When negotiating with insurance companies, we will factor in everything, including future medical expenses.
What's more, we can represent you throughout this process. You don't have to be there during settlement talks. This allows you to rest and recover after your accident. Remember, your health is important. There's no need to risk your well-being by accompanying lawyers to every meeting with insurance adjusters.
Trial Preparation and Representation
Most personal injury claims don't end up in court. Insurance companies always try to settle claims outside courtrooms.
However, there are times when we advise clients to consider litigation. If the insurance company offers a lowball settlement or denies your entire claim, we can represent you in court. The Super Lawyer can also represent you if the insurance company acts in bad faith.
Our attorneys will build a strong case and call expert witnesses, like the police, doctors, and accident reconstruction specialists, to the stand. These individuals can help prove that the defendant was at fault and liable for your damages.
Get in Touch With a Reliable Atlanta Distracted Driving Accident Lawyer Today
Most accidents are preventable. If only drivers could act reasonably and focus on the road, they would avoid many car wrecks. There's no need for drivers to use their phones while driving on Atlanta roads. Remember, texting increases the risk of crashing by 23 times.
If you or your loved one has been hurt in a distracted driving accident, you may have legal recourse. Our Atlanta distracted driving accident lawyers can help you recover damages, like medical bills, lost income, and property damage. You deserve compensation and justice after an accident. If another driver's negligence caused your accident, don't hesitate to seek legal help.
Contact the legal team at The Super Lawyer today to schedule a free consultation. We operate on a contingency fee basis implying you don't owe us anything until we win your case. Call 404-574-4308 to find out if you have a case.