Tragically, hit and run crashes are relatively frequent – and so are the number of fatalities that arise from them. According to data compiled by researchers from ValuePenguin, there were over 1,500 fatal hit-and-runs in 2019.
So, what happens when a driver hits you and flees the scene? What if you or your passengers are hurt? What steps should you take after a hit and run? Who will pay for your medical bills, repairs to your vehicle, or other losses you suffer?
Being involved in a hit-and-run accident is an exceptionally frustrating experience. Not only are you forced to deal with emotional, physical, and financial harms that come with getting involved in an auto accident, but now you're also left with the fear and uncertainty that comes with not knowing what to do next. The stress can quickly turn to outrage.
You don't have to struggle to figure out the answers on your own. Here at The Super Lawyer, our Atlanta hit and run lawyers help victims understand the various ways to achieve the best possible outcomes following an accident. Call our Atlanta car accident lawyers at 404-574-4308 for a free case review, right now.
Why Would a Driver Leave the Scene After an Accident?
As a responsible motorist in Atlanta, you know that if you're involved in a car accident, you MUST remain at the scene, check on others, and exchange contact and insurance information with other drivers.
In Georgia, there are severe consequences if you flee the scene of an auto accident without giving the other driver(s) your information. Official Code of Georgia Annotated § 40-6-270 requires any driver involved in a crash resulting in any injury to other people or death or any damage to property must stop and remain at the scene. Violating this law is considered a hit and run even for fender benders. The driver faces rising insurance costs, getting a ticket, a possible lawsuit, and other consequences, including possible jail time.
So, despite the fact that fleeing the scene of an accident is illegal in Georgia and, if caught, can result in unpleasant consequences, including jail time, what would compel a driver to leave the scene of a crash?
Here are some reasons why drivers leave the scene of an accident:
The driver is transporting drugs or illegal goods.
The motorist has an outstanding warrant for their arrest for unpaid tickets or other crimes.
The driver is drunk or under the influence of drugs.
The driver doesn't have a driver's license, insurance, or both.
The driver is driving a stolen car or without the owner's permission.
The driver is a repeat offender and does not want to face the legal consequences of their actions.
The driver is in the country illegally.
The driver is afraid that their employer will find out that they got into an accident.
Regardless of the reason behind a driver's decision to flee the scene of a car wreck, the fact is that an experienced Atlanta hit and run lawyer can help with your situation.
What Should You Do If a Driver Leaves After a Car Accident?
Every crash is stressful, and it's common to feel overwhelmed and have difficulty focusing immediately after the accident. All those issues are made worse when you're the victim of an Atlanta hit-and-run accident.
As soon as you realize that you're the victim of a hit and run crash, take the following steps:
Do Not Pursue!
Always remain at the scene of the wreck. Besides, pursuing a hit-and-run motorist can be dangerous in many ways, including the possibility of causing another crash and breaking more traffic laws.
Call the Police
Police officers in Atlanta have a process of dealing with hit and run accidents. Call 911, wait, and once they arrive at the scene, provide the responding officers with your statement and other evidence.
Get Medical Attention
Even if you don't feel hurt after the accident, see a doctor. Not only will seeing a doctor protect your health and safety, but you'll have doctor's notes and other medical records, which are vital in any potential Atlanta car accident claim or lawsuit.
Document the Accident
Document the accident and details about the crash and the driver. Whether you take photos/record videos with your phone's camera, write it down, or type it into your phone, get the best description you can of the other vehicle and driver.
What color was the car? What model? How old was it? What direction was the fleeing driver traveling? Can you describe the person behind the wheel? Did you get the license plate? Recalling such details can help your case.
Inspect the Surroundings and Speak With Witnesses
If possible, check if nearby locations and businesses have video footage of the crash. Get contact information from witnesses. Witness testimony may go a long way in helping identify the other driver and proving liability.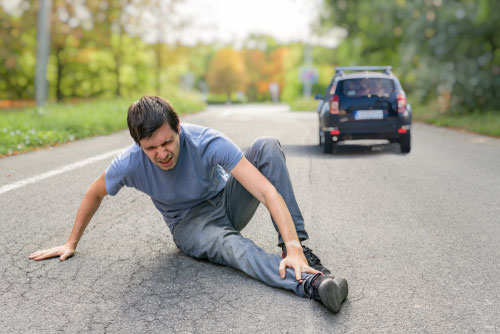 Contact Your Insurance Provider
Be sure to call your auto insurance provider and report the accident.
Call a Hit and Run Accident Lawyer!
An experienced Atlanta hit and run accident attorney can gather crucial evidence, including the police report to help your case. A lawyer can also help you with paperwork and deal with insurance companies. If the police cannot find the hit and run driver, your attorney can advise you on other options for recovering compensation. Call the hit-and-run lawyers at The Super Lawyer in Atlanta.
What Damages Can Victims Get from a Hit And Run Accident Claim in Georgia?
If law enforcement officers identify and locate the driver, our lawyers can help you pursue a car accident claim against the identified driver to recover economic (e.g., medical bills, property damage, and lost income), non-economic (e.g., emotional distress, pain and suffering, disfigurement, and loss of quality of life) and punitive damages.
Even if the other driver cannot be located, you may still have options for recovering compensation after a hit and run crash in Atlanta. In such a situation, hit and run victims can collect compensation through their uninsured/underinsured motorist policy.
If you're a hit-and-run crash victim, don't hesitate to get in touch with our Atlanta hit-and-run attorneys right away. Let us help you navigate the complex process of pursuing the compensation you deserve after a hit-and-run accident.
How Long Do I Have to File a Claim for a Hit and Run Accident in Georgia?
Hit and run accident victims in Georgia have two years from the date of the injury to file a car accident claim. You deserve justice and compensation for any harm and losses resulting from a hit-and-run accident. Don't wait. Call 404-574-4308 and let our team review your case.
Why Do I Need a Lawyer?
Hit and run crashes are particularly brutal, stressful, and traumatic. They are complex and create many problems, especially if the other driver is not located. The skilled Atlanta hit and run accident attorneys at The Super Lawyer have extensive experience helping accident victims get the compensation they need and deserve. Our legal team can do many things to help your hit and run case, including:
Help you inspect the scene of the crash and surrounding business and locations for video footage
Speak with witnesses and get witness statements to help identify the hit and run driver and prove liability
Proving liability if the driver is identified
Assemble supporting evidence
Meet deadlines, including Georgia's statutes of limitations for hit and run accident claims
Handle negotiations with insurance companies and stop unfair tactics
Hit and run accidents can be messy, and victims risk losing a chance to recover their deserved compensation. The best option is to have a skilled hit-and-run accident lawyer by your side to fight for your rights and interests. Call our Atlanta law firm at 404-574-4308 to schedule a free case review.
Call Our Atlanta Hit And Run Lawyers Today!
At The Super Lawyer, we proudly fight for hit-and-run accident victims in Atlanta. If a hit and run driver has hurt you, we can help you shoulder the load and make sure you recover the compensation you need and deserve. Call 404-574-4308 for a free consultation.