Driving through an intersection in Atlanta is a routine for most drivers. But when opposing traffic lanes and different roads come together, it can lead to a dangerous situation. The Federal Highway Administration published national statistics suggesting that two out of every five car accidents happen near and at an intersection. Additionally, 20% of fatal crashes are often intersection-related.
The roads in Atlanta are no exception as most accidents often happen at crossroads. Intersection car accidents can involve more than motor vehicles. These accidents can be severe and even fatal.
Have you been involved in an Atlanta intersection accident and suffered an injury or other losses? Our team at The Super Lawyer is here to help you. Call our car accident lawyers at 404-574-4308 today. Alternatively, fill out our online form, and we will get back to you. Our consultations are free. Let our Atlanta intersection accident lawyers help you discuss your legal rights and options and the facts of your case.
What Are Some of the Reasons for Intersection Accidents?
Intersection accidents can result from different factors, especially if a driver is inexperienced or distracted. Factors like reckless driving, visibility, and weather can also contribute to intersection accidents. Other reasons that may contribute to intersection accidents include:
Crooked Lanes
It is not uncommon for a crooked lane to lead to an intersectional collision. If you are unfamiliar with such lanes, it may be challenging to react or see a vehicle coming from a different direction.
Malfunctioning Traffic Lights
Intersection accidents may result from malfunctioning traffic lights. These lights may confuse drivers leading to a collision. When traffic lights malfunction, it is best that drivers cautiously navigate an intersection to avoid causing an accident.
Unsecure Traffic Signs
This can contribute to an intersection accident as it may confuse drivers. It is essential that drivers check traffic lights and not misjudge them to avoid accidents.
Potholes
Hitting a pothole can lead to a driver losing control of the vehicle and even cause damage to the suspension and shocks of the vehicle. Potholes can result in a severe accident at an intersection.
Lack of Crosswalk Markings
Intersections can be pretty dangerous for pedestrians as they can easily get hit by drivers if there are no crosswalk markings.
While any intersection can be dangerous, specific intersections in Atlanta are pretty dangerous, and it will be best to avoid them altogether. Some of the most hazardous intersections in Atlanta include:
Memorial Drive & North Road
Bolton Road & Marietta Road
Lithonia Road & Covington Highway
East Park Place & Stone Mountain Highway
Earnest Barret Parkway & Cobb Place Boulevard
State Bridge Road & Medlock Bridge Road
Jimmy Carter Boulevard & Peachtree Industrial Boulevard
What Evidence Helps Prove Liability in an Atlanta Intersection Accident?
Different types of evidence can help prove liability. The dedicated intersection accident attorneys in Atlanta can help you build a strong case with the correct type of evidence. Here are examples of evidence that can help establish liability:
The Police's Accident Report
It is essential to contact the police to come to the accident scene and take a report before any involved parties leave. You can always get a copy of the accident report from the police. Accident reports will have the full details of the intersection accident that may help your case.
Doctor's Notes and Prescriptions
Ensure you keep all your medical reports, doctor's notes, and prescriptions related to the accident. These are essential pieces of evidence our attorneys can use to prove the seriousness of your injuries and get you the compensation you deserve.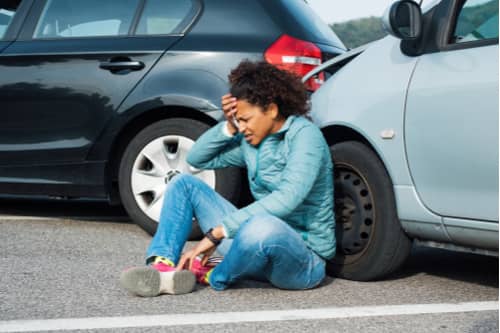 Photos and Videos
Ensure you take pictures and videos of the accident scene and any injuries you may have sustained. Taking pictures ensures you have proof, and it can prove the accident's severity.
Eyewitness Testimony and Your Testimony
It is essential to get eyewitness testimonies. Ensure you note down eyewitness information, and our attorneys can take the testimonies on your behalf. Your own testimony is equally important and can help your case.
Documentation From Your Job
If you sustained severe injuries that rendered you incapable of working, it would be best also to get documentation from your work confirming you are incapable of working in that environment.
What Compensation Can You Claim After an Intersection Accident?
Working with our skilled attorneys will ensure you get the compensation you deserve from your intersection accident. Here is the type of compensation available for intersection accidents:
Economic Damages
Economic damages are a type of compensation that is easily quantifiable. It often includes your past and future medical bills, loss of wages, and loss of employment.
Non-Economic Damages
Unlike economic damages, these damages are non-monetary losses you may experience due to the accident. They include emotional distress, pain & suffering, and loss of consortium.
Punitive Damages
These are damages that exceed ordinary damages in a personal injury claim. They are meant to punish the defendant for their extreme recklessness or negligence. Courts can also award punitive damages if there was malicious intent to cause harm on the defendant's part.
Do I Need a Lawyer for an Intersection Accident Case?
Yes, you need to hire a lawyer for your intersection accident case. Our Atlanta intersection accident attorneys are knowledgeable about the law and these cases and will ensure you are fully compensated. Here are the benefits of working with a lawyer in an intersection accident case:
Our attorneys are well versed with the law and will help make the process of navigating your claim more straightforward.
Consultations with our intersection accident lawyer are free.
We work on a contingency fee basis, meaning we only charge you after we help you win your case.
You can relax knowing you have a professional team fighting for you to receive your rightful compensation.
Our skilled attorneys will negotiate with insurance companies on your behalf and ensure they do not lowball you.
We help you get substantial proof that will help us build a strong case for you.
Speak With Atlanta's Top Intersection Accident Lawyers for Free!
While intersection accidents are not uncommon, each accident is different. The attorneys at The Super Lawyer take the time to investigate what happened to help you build a strong case based on your specific experience. We also help you negotiate with insurance companies so they fully compensate you and are prepared to go to court if we cannot reach a favorable settlement.
Call 404-574-4308 today if you have been in an Atlanta intersection accident and let our skilled attorneys help. Get started by scheduling your free case review.