Many motorcyclists love the freedom and exhilaration that come from cruising through the road on a motorcycle. Some appreciate the economy and convenience of riding a motorcycle on highways, freeways, and Atlanta's streets. Unfortunately, in the event of a crash, motorcyclists are exposed as they have minimum protection – and that's not the only concern for motorcyclists. While many motorcyclists understand the risks associated with riding a motorcycle and are often cautious when riding, other motorists are not always considerate or careful when sharing the road with cyclists. When a careless driver causes an accident we recommend you meet with an Atlanta motorcycle accident lawyer.
All traffic accidents are devastating; however, motorcyclists face a greater risk of severe consequences, including death when involved in a traffic accident. Suppose you or a loved one has suffered injuries because of a motorcycle accident – either as a passenger or a rider – in Atlanta, GA, you may be able to pursue compensation. Reginald Greene is proud to advocate for motorcycle accident victims all over Atlanta. We have the experience and dedication needed to not only guide you through the claim process but also help you achieve a favorable outcome. Call to book your free consultation with an Atlanta personal injury lawyer today at 866-4-LAW-411.
How Can A Motorcycle Accident Attorney Help With My Compensation Claim?
Typically, personal injury claims follow the same process. However, there are other unique elements in motorcycle accident claims, which mean that it would be best to have an injury lawyer who has expertise in motorcycle accident claims. A motorcycle accident attorney in Atlanta, GA, can offer expert legal advice pertaining to these unique features and support you throughout the process, including:
Filing a claim with your insurance provider
Negotiate with the insurance company
Represent you in court
Besides, injury lawyers have relationships with expert witnesses, which can go a long way in making your case. A lawyer will also handle all the grunt and background work of your claim as you recuperate.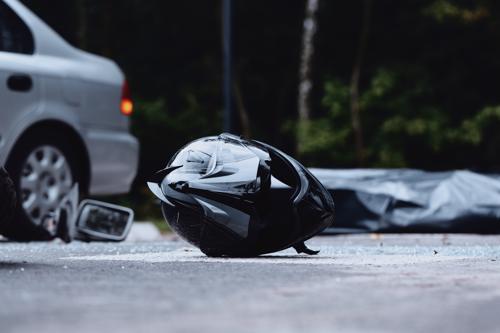 Without expert legal representation, you'll end up losing out on the money that you deserve. The legal procedures of filing an injury claim after a motorcycle accident are often filled with frustrating paperwork and jargon that can make you want to give up. Not to mention, insurance companies have a standby team of aggressive attorneys waiting to settle your claim for cheap. When you work with us, you get experience and expertise where it matters most. We have the knowledge, experience, and expertise to remove the burden of the claim from your shoulder and help you get maximum compensation for your claim.
What Are The Motorcycle-Specific Laws In Georgia?
Georgia motorcycle statutes (O.C.G.A. § 40-6-310 through 40-6-316) cover a variety of rules and regulations on eye protective gear, passengers, helmets, footwear, windshields, and even carrying packages. For instance, the Georgia Helmet Law for motorcyclists requires them to wear helmets at all times when operating a motorcycle. Other Georgia statutes on motorcycles include:
§ 40-6-310 – Covers traffic laws that are applicable to motorcyclist operators
§ 40-6-311 – Dictates the accepted manner of riding a motorcycle in Georgia
§ 40-6-312 – Covers laws regarding how to operate motorcycles on roadway laned for traffic
§ 40-6-315 – Covers eye-protective and headgear devices for motorcyclists
Another motorcycle-specific law in Georgia is that all motorcycle drivers must maintain a minimum liability insurance coverage of at least $25,000 per individual.
How Is Fault Determined In Atlanta, GA, Motorcycle Accident Cases?
Determining liability for damages in motorcycle accident claims is based on several factors, including:
The speed of the motorcycles and vehicles involved
Weather conditions
The driver's state of mind
Sadly, proving fault and determining damage liability after a motorcycle accident is not always straightforward. Several elements come into play when determining fault and liability in Georgia. They include:
Investigations performed by police and other professionals
Evidence gathered from the scene and presented
Eye witness statements
Generally, Georgia can be said to be a modified comparative fault state. What does this mean? Under this law, in layman terms, the person with the who was most at-fault (negligent) is liable for damages resulting from the accident. Motorcycle accident victims in Georgia can still collect compensation, even if they were partially at fault (as long as they convince the court that their degree of fault was less than 50%). However, the compensation a victim can recover is reduced depending on their degree of fault. Note that victims who are found to be more than 50% responsible are not eligible for compensation. What Type Of Compensation Can I Receive For My Motorcycle Accident In Atlanta?
If you or a loved one has been hurt in a motorcycle accident – and another party is at fault for causing the crash – you are entitled to pursue compensation. While every motorcycle crash is unique, generally, with the help of a reputable injury lawyer, motorcycle accident victims can recover the following damages:
Economic Damages
These are sometimes referred to as compensatory damages – because they aim to offer financial compensation to the victim for their losses and injuries. Economic damages include:
Medical expenses (past, present, future, and even the cost of medical devices)
Damage of property – Compensation for any clothing, items, vehicle or personal items damaged during the crush
Income loss: Reimbursement for the work wages the victim has lost. Also includes the money that you would have earned at work in the future
Legal fees: Costs associated with filing the injury lawsuit
Non-Economic Damages
These are also known as hedonic damages and are intended to compensate the plaintiff for intangible damages. These include:
Pain and suffering
The negative impact that the injuries have on the plaintiff's life
A loved one can recover for loss of love, household services for the victim, and companionship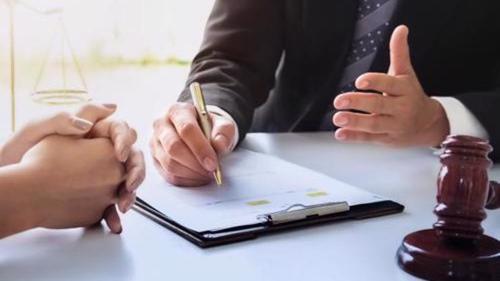 Punitive Damages
These exceed simple monetary compensation – since there are not intended to compensate the plaintiff for loss – and are awarded to punish defendants who exhibited extremely reckless or hazardous behavior.
Why Was My Motorcycle Accident Claim Denied?
Imagine you've been in a devastating motorcycle accident and submitted your claim to your insurer, only for them to tell you your claim has been denied! This can be extremely disconcerting. There are several reasons why your claim can be denied after a motorcycle accident. They include:
Your policy had lapsed or was canceled
The driver was underinsured or uninsured altogether
They are convinced you were at fault
Missing documentation
They claim you had pre-existing injuries and were not caused by the accident
They don't believe you are faking or exaggerating your injuries
Because of what you posted on social media
It's common for insurance companies to deny claims; after all, they are looking to settle your issue cheaply. However, don't give up, our lawyers will assist you in appealing a denied claim and get you the financial compensation you deserve.
Are There Time Limits To Filing A Claim After A Motorcycle Accident?
Yes! Typically, the time limit for filing a claim in a motorcycle accident case is two years after the incident. Therefore, you must file the lawsuit on or before these two years end. However, this time limit does start to run for victims under 18 years of age until they reach 18, or they are emancipated. Also, there a two-year time limit for any wrongful death claims arising from a motorcycle accident in Georgia.
Contact A Experienced Atlanta Motorcycle Accident Lawyer
Reginal Greene uses his experience to offer legal advice and achieve favorable outcomes for motorcycle accident victims. Don't let the intricate nature of Georgia laws or a denied claim prevent you from getting the compensation you need and deserve. Call our Atlanta car accident lawyers at 866-4-LAW-411 to schedule your free no-obligation strategy consultation.