If you or someone you care about has been hurt as a pedestrian in Atlanta, you should speak to an experienced Atlanta pedestrian accident lawyer for immediate legal assistance. At The Super Lawyer, our lawyers can help you recover compensation for your medical bills, property damage, lost income, and much more. Don't accept what an insurance company has offered you before speaking to a reputable pedestrian accident lawyer near Atlanta.
Our legal team will look into your injuries and damages and determine the value of your car accident claim. We are also prepared to handle your case on your behalf as you rest and recover.
Call 404-574-4308 now to speak to one of our representatives about your case. We will review your case at no cost and inform you about the next steps. Remember, there are deadlines for personal injury claims in Georgia. The earlier you start, the better!
Main Causes of Pedestrian Accidents
The National Highway Traffic Safety Administration estimates that 6,205 pedestrians and 846 cyclists were killed all over the U.S. in 2019. According to the Governor's Office of Highway Safety in Georgia, there were 236 pedestrian deaths in Georgia in 2019.
Motorists should always concentrate while driving on Atlanta roads. They should be on the lookout for people on foot. Most pedestrian accidents happen when drivers take their eyes off the road. They may not see pedestrians crossing the street, entering an intersection crosswalk, or walking along the road.
Common causes of pedestrian accidents in Atlanta include:
Failure to Yield Right of Way
Pedestrians have the right of way in several situations while on Atlanta roads. For example, drivers are required to yield the right of way if there's a "Walk" signal. However, this isn't always the case. Some drivers may ignore giving the right of way to pedestrians at intersections, sidewalks, alleys, and private roads.
Speeding
Speeding in crowded streets is extremely dangerous. Such reckless actions risk the lives of pedestrians. It's very easy to lose control in a school zone and hit children. A driver may also try to avoid a pothole only to end up hitting a couple that's walking on the side of the road.
Driving Under the Influence
Motorists shouldn't drink and drive. This can affect their judgment skills and reaction times. A driver may easily lose control when they are drunk and hit pedestrians.
Drunk pedestrians also endanger their own lives. They may stagger or fall onto the road and risk being hit by motorists.
Poor Lighting
It's difficult for motorists to spot pedestrians at night. This more so applies if the pedestrian is wearing dark clothing or if they are in a poorly lit street.
Distracted Driving
Distracted driving is any activity that diverts a driver's attention from driving. This may include texting on the phone, talking with passengers, eating, or applying makeup. If you take your eyes or mind off the road, you may end up hitting a pedestrian and cause severe injuries.
What Should I Do After a Pedestrian Accident?
Many pedestrians in Atlanta are knocked unconscious when they are hit by vehicles. Others may remain conscious but in shock. If you are hit by a car, you'll likely experience shock.
After an accident, it's important to breathe and remain calm. Here's what the Atlanta pedestrian accident lawyers at The Super Lawyer recommend.
Seek Medical Assistance Immediately
If you have sustained injuries after an accident, call 911 for immediate medical assistance. Never assume that you are fine after an accident. Some injuries, like brain concussions, may not be apparent soon after the accident.
Let a trained medic review your situation. You may have sustained a serious injury that may worsen days later.
Document Your Injuries
Taking photographs and videos of your injuries after an accident is important. Photographic evidence can prove how severe your injuries were after the accident. Don't forget to note down your progress and any symptoms, like extreme pain or movement problems, that you may experience as you continue to recover.
Call the Police
No matter how minor your injuries appear, it's important to call the police. Never allow the driver to talk you out of this stage. This may jeopardize your Atlanta pedestrian accident claim. Still, don't accept any unorthodox arrangements that the driver may suggest after the crash.
Do Not Discuss Fault on the Scene or to the Motorist's Insurance Company
Insurance adjusters are always keen to look for reasons to deny claims after accidents. It's advisable not to discuss the specifics of your crash with insurance adjusters since this may affect your claim. Do not apologize to the motorist after the accident.
Contact Your Insurance Company
Notify your insurance company as soon as possible regarding the accident. Insurance companies have deadlines regarding when to report accidents. Your insurer may require accident details for them to process your claim.
Seek Professional Legal Assistance
Speak with a qualified Atlanta pedestrian accident lawyer who has an extensive background in handling pedestrian accident claims in Atlanta, GA. The legal team at The Super Lawyer can advise you if you have a case. We can also handle talks with insurance companies to ensure you don't jeopardize your claim.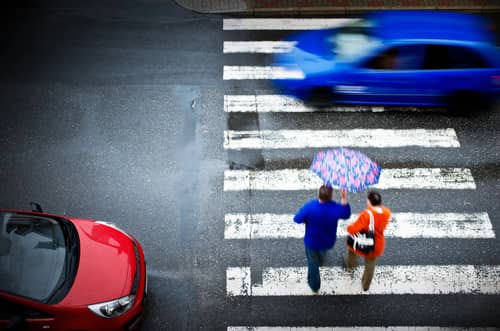 How Do You Determine Liability or Fault in a Pedestrian Accident in Georgia?
The burden of proving fault lies with the plaintiff in pedestrian accident claims. To determine liability, your Atlanta pedestrian accident attorney must establish these four elements:
Duty of care: Did the driver have a legal obligation to protect the rights of the pedestrian while driving?
Breach of duty: Did they breach that duty through their negligent actions?
Causation: Did this breach cause the accident?
Damages: Were there actual damages, like medical bills and lost income, after the crash?
Your lawyer can help you establish these elements to determine if you have a case.
How Can a Pedestrian Accident Lawyer Assist With My Claim?
Seeking legal guidance after an accident is essential. With the help of a reliable law firm near Atlanta, you may recover compensation for your damages. Here's how our legal team can help you:
Case Preparation
The Super Lawyer is ready to review your case and advise you about your options. To build an airtight case, our lawyers will look at pieces of evidence, such as witness statements, police reports, photographs, employment records, medical records, and CCTV or dashcam footage.
Once we establish fault, we will file a demand letter with the insurance company and seek maximum compensation.
Settlement Negotiations
Regardless of how friendly insurance adjusters seem, they aren't your friends. Their main goal is to reduce or deny your payout.
For this reason, you should hire a lawyer to handle your negotiations. At The Super Lawyer, our lawyers won't rest until you get the compensation you deserve. We will fight for your rightful compensation, which may cover your medical bills, lost income, property damage, and even non-economic damages, like mental anguish.
Trial Preparation & Representation
Not all negotiations work out. If the insurance company offers a lowball settlement, we will advise you regarding litigation. Our trial lawyers are prepared to represent you in Georgia courts, ensuring you get the compensation you deserve.
What Are the Time Limits for Filing a Pedestrian Injury Claim in Georgia?
Every state has statutes of limitations for civil claims and lawsuits. In Georgia, you have a two-year window to file a pedestrian accident claim. It's essential to contact a reputable Atlanta law firm that deals with pedestrian accidents as soon as possible. If you don't file a claim within this window, you will not receive compensation for your injuries and damages.
For property damage claims, you must file a claim within four years from the date of the accident.
How Much Will an Atlanta Pedestrian Accident Lawyer Cost?
The Super Lawyer operates on a contingency fee basis. You won't have to pay any upfront fees for our services. You will only pay us once you receive compensation from the insurance company.
Call Our Atlanta Pedestrian Accident Lawyers Today for Legal Guidance
Accidents involving motor vehicles can lead to serious injuries and even death. Many might consider drivers and passengers as the parties at the greatest risk of harm. But pedestrians also share Atlanta roads, and they are basically unprotected in the event of car collisions.
When a pedestrian is hit by a motor vehicle, it's easy to assume that the driver is responsible for the crash. However, this isn't always the case. By hiring an experienced lawyer, you can determine who is to blame for your crash and how much it is worth.
If you or your loved one has been injured in a pedestrian accident, contact The Super Lawyer today. Our attorneys have years of experience helping injured pedestrians receive compensation for their losses. We are ready to look into the facts of your case and advise you regarding your legal options. Our lawyers have the resources to simplify the claims process and ensure you secure the best compensation for your damages.
Contact us now at 404-574-4308 to book your free case evaluation. Keep in mind that there is a two-year deadline for pedestrian accident claims in Georgia. Don't delay contacting us. Get started now to discuss your legal options.