Being involved in an auto accident can cost you seriously in both the short- and long-term, meaning that the costs may extend to several months, or perhaps years, in case of injuries demanding constant/long-term care. However, it would only be justified if the person who caused this damage has to compensate you for your damages, as is the law in Georgia.
A capable Atlanta car accident lawyer can help you in your claim against the negligent parties and secure fair payment for all the losses and damages incurred upon you. But this begs the question: when should you reach out to a personal injury attorney in Atlanta, Georgia with your case, and what should you expect out of your meeting with your attorney?
At The Super Lawyer, we make it a point to help our clients understand their position in the case and to thoroughly represent them throughout the challenging times.
But as for when to reach out for help, read on to explore!
What to Do Immediately After An Auto Accident in Atlanta
Your actions at the moment the accident happened will affect the outcome of your case, and the meeting with your lawyer, so here's how you can ace this part:
Record Firsthand Evidence
Your photos, videos, and audio recordings (the last one is only recommended if the other party fails to cooperate) will help others see and feel the accident scene as if they were there with you. This is also recorded evidence for you to show that the crash did happen and that it caused the amount of damage you claim.
Call The Police
Next, you must call 911 on the spot as this is a standard protocol to follow in the event of auto accidents. Also, if you leave the crash scene before the police officers show up (unless it's a medical emergency), this fact can be used against you later in your claims process.
Exchange Information With the Liable Party
Be very calm and resolute when talking to the other person, they're probably not in a very good mood themselves. Your goal here is not to discuss blame, be nice, or apologize (some people tend to do that even if they are not at fault). Instead, just exchange information like name, license number, contact details, insurance provider, car details, and so on.
They'll ask the same from you, don't worry, that's how it is.
Reach Out to Witnesses
If you notice other people there who saw the whole thing happen and can testify in your favor, reach out to them as well and ask them if they want to help.
Just ask for their contact information for later use (if needed to record a statement).
Seek Medical Attention
This is the important part, don't delay seeking medical attention for your damages. As soon as you can, get to a clinic or a hospital for a complete evaluation of your condition and to receive urgent medical care, as necessitated by your situation.
Document Your Losses
And, of course, while all of this is happening, you should hold onto all your bills and receipts so you can claim your losses later on.
And then, you seek out legal help from a lawyer!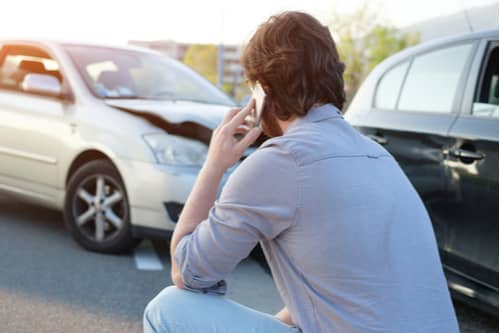 When to Reach Out to a Lawyer for Your Auto Accident Case & How
Now comes the important part – the "when?"
Normally people tend to delay this part because they're gathering data or collecting all the documented proof, and so on. However, there is no hard and fast rule on at which stage of the legal process should you reach out for a counsel. The sooner, the better. Your decisions throughout the case, and especially what you say, do, and agree upon, will affect the outcome of your case, so it's best to seek legal advice on how to proceed, no matter what stage you are on.
Your lawyer should be the first person who hears from you the full details of what happened and how.
Once you've been patched up and can reach out for help, you should.
Initial consultation at The Super Lawyer is free, so you should not hesitate in reaching out to us!
Why You Need an Atlanta Auto Accident Lawyer
Do you even need a lawyer to represent you in your auto accident case? This is a rhetorical question – of course, you do. You need someone who understands the legal complications of the matter and can strive to deliver maximum compensation to you for your losses. This would be impossible to do on your own, and the insurance adjusters know that only too well. This is precisely why they may try to reach out to you early on so you settle for a smaller sum than otherwise possible.
Don't fall for the trap.
There are other reasons too to hire an attorney, some of them are:
For legal representation at all stages of the process
For legal advice concerning matters, you know little about
For a thorough analysis of your case and your position in it
To identify the liable parties
To represent you during the settlement negotiations
To demand maximum compensation for your damages
To take matters to court, if needed
And so on…
Let Our Personal Injury Attorneys in Atlanta, Georgia Help You
Whatever your case, you can always count on the highly experienced and capable team of personal injury attorneys in Atlanta, Georgia at The Super Lawyer for legal representation and more. We are a team of highly committed and resourceful Atlanta auto accident lawyers who know how to help clients through such challenging times.
You can reach out to our staff for a free initial consultation of your situation and get legal advice o how to proceed further with your case. Rest assured, we won't demand any upfront payments for our attorney fees as we understand that you're in a tough spot yourself. Instead, you'll only have to pay when you win your compensation.
Sounds fair, right?
Reach out to us now to further your case!