Caught in the hustle-bustle of life, everyone is looking for ways to get things done faster than ever. This can especially be seen on the roads where people rush to reach their destination daily, but a slight carelessness can have devastating results. According to the World Health Organization, annually approximately 1.3 million people pass away due to road accidents.
But even in non-fatal cases, the economic and non-economic damages on the victim can take their toll, necessitating a fair settlement from the liable party. You should be well aware of the facts regarding a car accident to stand a chance of being fairly compensated. Also, get in touch with an Atlanta auto accident attorney as soon as you can.
What Is the Average Car Accident Settlement?
The settlement for a car accident differs from situation to situation. It can be sizeable in case of serious injuries but don't get the idea that a mild injury won't cost anything. The bills vary according to the place, so your location plays a significant role in all of this. It would be best to consult with an Atlanta auto accident attorney for perspective.
Reality is different from expectation. An average settlement may not be useful in your case, your monetary figures may be different as every case is unique. For an accident victim, it is impossible to predict how the negotiations will go and what the settlement amount will be without understanding the whole mechanism and considering the laws.
In short, you'll need help from an expert Atlanta personal injury attorney to secure a good deal.
Losses Sustained in a Car Accident
The settlement sum (demanded) gets divided into two portions: one portion for the victim (medical bills, loss of income, extra expenses, etc.) and the other one for property damage. Of course, on top of this, there are non-economic losses as well, but those are considered after summing up all the economic losses.
You need to keep a record of all your bills and invoices for this – your attorney will handle the rest.
Property Damage
If you were involved in a car accident with car damage only, then the liable party will only have to compensate the victim for property damage, which is not that much in most cases. Generally, for minute scratches or repairs, the responsible party may get away with $300 to $800.
The bigger the damage, the larger the settlement sum. For damage to the car's panel, the repair price may be as high as $4K. Frame defect can cost under $1K, or up to $10K, depending on the extent of the damage, and the same goes for the engine: it's between $5K and $10K depending on the amount of repair needed.
Rates vary according to the type of car and the damage incurred.
Any harm to your cell phones, electronic devices, and so on, will also be accounted for.
Damages Sustained By The Victim
In the case of bodily injuries on top of property damage, the economic damages would only pile up. The settlement depends on the type of harm, i.e., have you suffered severe injuries that require long-term treatment?
In 2019, the average settlement for car accident injury claims was $18,417. But again this is an estimate. Severe wounds like a spinal cord injury lead to much higher expenses than muscle strain from whiplash. The victim deserves to be compensated for the hospital bills, medicines, loss of income, property damage, physical therapy, etc.
If the victim has to go for any form of therapy or psychiatric treatment, this can also factor into the compensation sum.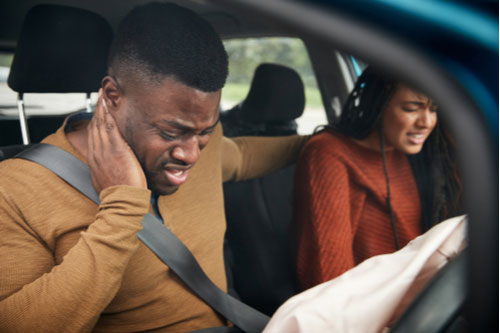 Compensation for Non-Economic Damages
Your non-economic damages include current pain, future suffering, scars, and physical disability. Other non-economic losses include loss of consortium, wrongful death, loss of quality of life, etc.
The type of pain and suffering affects negotiation. The compensation for non-economic damages depends on the intensity of your physical and emotional pain.
Generally, attorneys sum up the economic losses and then factor in the non-financial damages as a multiple between 1.5 and 5, based on the intensity to calculate the total damages.
Personal Injury Laws Also Affect the Average Settlement Sum
Comparative fault laws in Georgia also factor in when working out the final payout for the liable party. To prove the other party was at fault, you have to be well prepared for the debate (your lawyer will be). In case you are proven to be partly at the fault of the accident, your insurance claim amount may fall significantly.
In Georgia, you can't recover compensation if you are found to be 50% or more at fault. Your compensation will be reduced by your share of fault.
How You Handle The Situation Matters
Post-accident steps play a significant role in turning the tables. After a car accident, check yourself for injuries, and if your injuries are severe, call an ambulance. If you are fit to do so, you must immediately call the police and check for possessions that might help in your case in the future.
Witnesses are important as they play a key role in a trial. Try reaching out if there is one available at the accident scene. Hire someone to deal with your legal matters and get in contact with your insurance company. Begin the process as soon as possible. If you feel like something is out of the ordinary, go for a complete medical evaluation just for a precautionary reason.
Our Atlanta Personal Injury Attorneys Can Help You Get Compensated Fairly
To get the maximum out of a car accident settlement, it's better to seek professional aid from an Atlanta personal injury attorney who will guide you through all aspects of the case. At The Super Lawyer, our personal injury lawyers will assist you throughout the case and represent you at all stages of the process, including negotiations with the insurance adjuster.
We have the best talent in the field, and our professionals will wholeheartedly work to resolve your case in the best possible way. Feel free to get in touch for an initial consultation session to get some perspective, and then we can start sorting things!