A car accident in Atlanta can get serious, and the damages may create setbacks for the victims for some time to come. However, this process can get complicated without solid evidence; there are so many considerations for any victim throughout such cases. The best course of action would be to prepare for your personal injury claim right from the moment the crash happened.
Rest assured, your Atlanta car accident attorney from The Super Lawyer Firm will do all things possible to improve your chances for a favorable settlement, but your actions can matter as well. What should you do immediately after a crash, then? Car accidents can be extremely severe, so you may not be able to act on the spot in all cases; perhaps you can gather data from someone else who recorded the details in such cases. If possible, however, you should gather firsthand evidence as soon as possible.
Car accident cases in Atlanta, as with other personal injury cases, follow a tort liability format. You have to prove that the other party acted carelessly or recklessly, that this caused the accident, and that you suffered damages. Then, you can seek compensation for the said economic and non-financial losses.
So, here's what you should do if you're ever in a car crash in Atlanta:
#1) Check Yourself & Other Passengers
This should be the first order of business; once you've got the car to the side of the road, make sure that all of the passengers, including yourself, are fine. It will be helpful if you can photograph your bruises, lacerations, and other external signs of damage. If someone is severely injured, call 911 right away.
#2) Report the Car Accident to the Police
This is another must-do after a car accident. Don't leave the accident scene before you've reported the incident to the police, or do go on and report it afterward if it was an emergency at the spot (and you had to be rushed to the hospital). Reporting the accident is a legal necessity. You should not hold back from doing so even if the other party is cooperative.
This way, you'll get the crash documented officially. The police report contains crucial evidence for showing who was at fault.
Also, if someone flees the car accident scene without exchanging information with the other party or reporting the case to the police, it is deemed as a hit and run, and that person is by default assumed culpable. If something like this happens, try to note the other car's license plate number.
#3) Take Photos & Make Videos
Firsthand evidence is the most effective way of proving your side of the story. If you can photograph the accident scene, your injuries, the damage sustained by the car, the overall view showing how the crash happened (rear-ending, head-on collision, etc.), and so on. Also, if you can get the other car's license number plate in your lens, that would be great too.
Photographs and videos can prove to be valuable evidence further down the line in your claim process.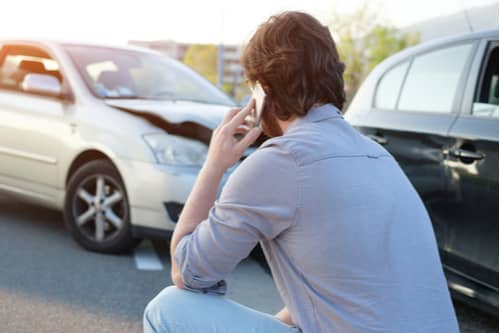 #4) Exchange Information With the Other Party & Eyewitnesses
Ideally, you'd want a friendly exchange of information with the other party, but the chances of that are slim. The least you can do is to maintain a cool head. There is probably a tense atmosphere in the air, but you need to be reasonable, even if the other person is not so.
Avoid apologizing, even for the sake of being polite, and don't discuss fault even if the other person brings it up. You just need to get your hands on the information that is relevant to you.
You should ask for the liable party's name, ID, driver's license information, car details, and insurance coverage information. This way, it will be much easier for you to pursue your claim against them once this episode comes to an end. They should ask for the same information.
#5) Seek Medical Help
Don't delay seeking medical help, even if you can stand the pain for some time. Ideally, you should seek consultation from a medical expert within 72 hours of the crash, but ideally on the same day, as soon as possible.
Urgency shows that the damages were indeed serious, and delay gives the opposite message. Once you're at your doctor's, go through all the necessary medical exams and diagnostic procedures so you can identify the extent of the damage.
#6) Record Your Losses
All the while you should gather all the receipts and bills to account for your economic losses and journal your suffering to document your non-economic losses.
After this, you can leave the rest to your lawyer!
#7) Contact a Competent Attorney
Your lawyer should be the first one to hear your case in full. How can a lawyer help you, you may ask? From initial consultation for your case to getting you a favorable compensation for your losses both in the short and long term, the Atlanta personal injury attorneys at our law firm have you back!
Not only will we dedicate all the resources needed to help you win your case, but will also keep you in the loop of it throughout. Also, our lawyers will work on your case even if you can't afford our services upfront as we work on contingency fee arrangements.
This means that you'll only pay when you win, not a dime before that. Feel free to fill out our contact form or call us now at 866-4-LAW-411 for an appointment!