Handling the situation after a car accident is tough but an essential step that will guarantee a strong position for yourself during the entire case. Of course, the only surety you have of securing maximum compensation in your case is to hire a professional and experienced Decatur automobile accident attorney for legal representation throughout.
But you can also influence the outcome of your case through your actions at the accident scene. What you do immediately after the car crash will give your Decatur car accident attorney some initiative from your side.
The Super Lawyer legal firm is always eager to support our clients and will do all things possible to make your position stronger in the case. Also, we offer legal representation at all stages of the car accident case.
But what is it exactly that you should do after a car accident? In this article, we will discuss what must be done after a car accident to make your case stronger!
Here's What You Must Do After a Car Accident in Decatur
Here's a short rundown of what you must do if you've been in a car accident. Try to complete all or most of these steps, if possible:
Ensure Your Safety and Others'
First things first, you need to see if you and the other passengers are alright. If you're injured, assess the situation – do you need immediate medical attention? If not, you can proceed with the rest of the steps. Park your car by the roadside and disembark for the rest of the process.
Report the Crash to the Police
This is pretty much the first thing you do. Call 911 and ask them to send an officer over to your location to record statements about the crash. You should never leave the accident scene (unless it's a medical emergency) before the police show up and record the statements.
Gather Firsthand Evidence
Take photos and video of the whole accident scene including the license number plate of the other car (if you have a dash and rear cam, it would be a plus point here). Also, take photos of your injuries and those of any passengers riding alongside you.
Exchange Information With the Other Party
Discussing fault at this stage is not recommended at all! However, you should exchange information with the other party. Ask for their name, ID, license information, insurance provider details, and so on – they will ask for the same, don't worry, it's the standard protocol.
Don't say anything that relates to fault!
Contact Eyewitnesses
Do you see people around? If so, reach out to them and ask them to share what they saw. Also, request them to share their contact information so that your lawyer can reach out to them later on, if needed, for eyewitness testimony. Be very polite and tell them how much their cooperation means to you.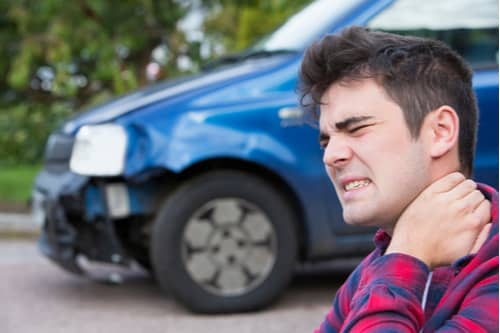 Seek Medical Help
This is a no-brainer. You can't delay seeking medical attention for your losses even if the injuries are not extremely dangerous. Only a licensed medical practitioner can diagnose the extent of your injuries. By seeking help sooner rather than later, you won't bring doubt to the validity of your claims about the levels of pain and suffering sustained.
Ideally, you should see a doctor almost immediately after an accident!
Record Your Losses
Next, you should start keeping tabs on your losses. Medical bills, loss of income, property damage, loss of earning potential, and other costs necessitated by the accident come under the umbrella of economic damages.
On top of these, you also have non-economic losses such as pain and suffering, loss of consortium, loss of joy in life, and so on. You should record all such losses, keep all the bills and receipts with you as evidence, and journal your experience to give some insights into how the accident affected you.
Your lawyer will then take over the rest!
Why Do You Need a Decatur Automobile Accident Attorney?
Hiring a competent attorney to represent you throughout the legal process of your accident claim is an absolute necessity for several reasons. The most important one is that though the insurance adjuster might appear all nice and friendly to your face and may even take the initiative to reimburse you for any losses you've sustained, they are NOT on your side.
They work for the insurance company, and their job is to minimize the payout by:
Denying that your crash incident was as severe as you claim
Linking your injuries to some past medical conditions
Downplaying the pain and suffering you had to face
Pressing that you had a share in the blame for causing the accident even if you didn't
Stressing that you were primarily responsible for the crash if you were partly at fault
Forcing you to settle early on for a minimal sum
Your attorney understands such tactics and is prepared to face whatever the insurance adjuster throws at your claim. Legal representation at all stages of the legal process also means that you don't have to personally deal with the insurance adjuster or the liable party. You can let your attorney handle the whole thing while you seek recovery from your injuries.
Get Legal Help From Our Decatur Personal Injury Attorneys
You can only demand maximum compensation for your losses if you have the legal backing of competent and experienced Decatur personal injury attorneys from The Super Lawyer. Our Decatur automobile accident attorneys are the best in the business with decades of combined experience.
We will listen to the entirety of your case during our free initial consultation session and then guide you through the rest of the process. Also, our lawyers will stay on top of your case throughout and offer complete legal representation, even during the settlement negotiations phase. You can count on us to get you compensated fairly.
All of this without any upfront payments for our legal fees!
Don't wait any further as time is running short as it is, get in touch today to proceed further with the accident claim!