If you were hurt in a hit and run, you need legal help. Get the help you need today! Contact our Decatur hit and run lawyers at 404-574-4308.
Being involved in an auto accident is always stressful, but it becomes more frustrating and overwhelming when the motorist who hit you does not remain at the scene. If the irresponsible motorist who caused your accident flees the scene, you may be confused and unsure regarding how to pursue the compensation you need to cover hospital bills related to your injuries and property damage.
Nonetheless, there are still options. Have you been hit by a car that did not stop or remain at the accident scene? Talk to our skilled Decatur car accident lawyers about your options and legal rights.
A Decatur hit-and-run accident attorney from The Super Lawyer could help you identify all available avenues of compensation and pursue fair compensation for losses. With our experience handling auto accident cases ranging from hit-and-run accidents to rear-end collisions, we have the skills necessary for getting you the compensation you deserve. Call 404-574-4308 for a 100% FREE consultation and learn how we can help with your hit-and-run case.
Why Would a Driver Leave the Scene After an Accident?
The Official Code of Georgia Section § 40-6-270 defines a motorist's duty to stop their vehicle at or return to the scene of an accident and give their contact, vehicle, and insurance information to the other driver.
A driver that fails to comply with this law and causes non-severe injury to another person is guilty of a misdemeanor and, upon conviction, may be imprisoned and/or fined up to $1,000. An individual who fails to comply with OCGA § 40-6-270 and causes another person's fatal injury or death is guilty of a felony and, upon conviction, may be imprisoned by imprisonment for up to five years.
So, despite the severe consequences of leaving the scene of a crash in Georgia? Why would a driver risk fleeing from the scene of a car accident?
There are many reasons why a driver might flee after hitting another vehicle or person. Some common reasons for leaving the scene of an accident include:
The driver does not have a valid driver's license.
The driver has a warrant out for their arrest or has a criminal record.
The driver believes stopping will be unsafe.
The driver is not aware that they hit someone and is therefore convinced that they do not need to stop.
The driver is transporting drugs or illegal goods.
The driver was drunk or operating the vehicle under the influence of drugs.
Confusion.
Whatever the reason, leaving the scene of a car wreck in Georgia is illegal. The victims of hit-and-run accidents deserve justice, and our Decatur hit and run lawyers are dedicated to fighting for you.
What Should You Do If a Driver Leaves After a Car Accident?
It's hard enough dealing with injuries caused by negligent or reckless driving. Still, the very least you can hope for is that the other motorist will stop, provide their contact information, and remain at the auto accident scene.
Unfortunately, many hit-and-run drivers have different reasons for fleeing from the scene of a crash, such as being drunk or driving without a valid driver's license. Regardless of the reasons behind a hit-and-run accident, you cannot control the other driver's behavior. Besides, if you're hurt or your vehicle has extensive damage, you'll have other things to worry about.
The Super Lawyer has some advice on the steps to take after a hit-and-run accident in Decatur, GA:
Take down the hit-and-run driver's tag number.
Note down the vehicle's description.
Do NOT chase the fleeing driver!
Call the police and provide them with any information you have about the vehicle and the driver.
Seek medical attention.
Talk to witnesses and take down their statements and contact information.
Report the hit-and-run accident to your insurance company, and look into your UM coverage policy.
Contact a lawyer who has experience with hit-and-run cases in Decatur!
If you have been injured or your vehicle has been damaged in a hit-and-run accident and are wondering where to turn, the skilled hit-and-run accident attorneys at The Super Lawyer are here to help. We are experienced in all types of car accidents and know how to obtain the compensation you deserve.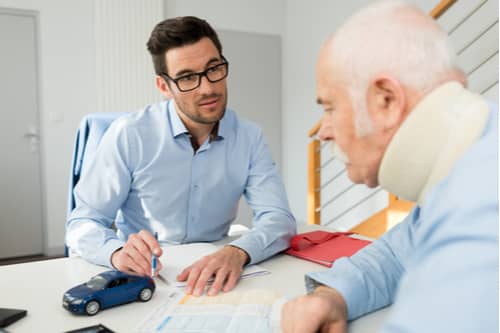 What Damages Can Victims Get From a Hit and Run Accident Claim in Georgia?
In most auto accident cases, the best way for injured victims to get justice is to hold the at-fault driver responsible by filing a civil case against them. This usually leads to negotiations with the negligent driver's insurer and a settlement agreement. Alternatively, if negotiations fall through, you sue the driver and take the car accident case to trial.
But how can you file a claim against someone you can't identify? Is it still possible to recover the money you need when the negligent driver flees from the scene of an accident?
Yes. Hit-and-run injury victims have two options for recovering damages:
When the Driver Is Identified
In a case where the driver is identified. Our lawyers will proceed to file an auto accident claim with their insurance company and negotiate for a fair settlement for economic damages. If negotiations fail, we can take your case to court and fight for the damages you deserve. Filing a car accident claim or lawsuit against a hit-and-run driver can allow you to recover a range of damages, including:
Medical expenses (current and future)
Lost income
Property damage
Diminished earning capacity
Pain and suffering
Miscellaneous related expenses
When the Driver Is Not Identified
If the driver responsible for your injuries or damage to your vehicle is not found, you can file a claim with your insurance company under your uninsured motorist coverage. The uninsured motorist coverage can compensate you for medical bills, pain, and suffering other damages related to any property damage and injury.
Our hit-and-run accident lawyers in Decatur can help you collect crucial evidence needed to file your claim with your insurance company. We will handle all details on your behalf, from collecting physical evidence of what caused the crash to interviewing eyewitnesses. You can count on our legal team to get you the compensation you need and deserve.
How Long Do I Have to File a Claim for a Hit and Run Accident in Georgia?
Regardless of whether the at-fault driver of a hit-and-run accident is found or not, you have two years from the date of the accident to take legal action against the negligent/reckless driver. In addition, there are deadlines for reporting a hit-and-run accident to your insurance company – you may be required to report a hit-and-run accident to your insurer within 30 days.
Speak with a diligent Decatur hit-and-run accident attorney to ensure you understand the time limits for hit-and-run accident cases in Georgia.
Why Do I Need a Lawyer?
Any car accident can be quite traumatic. It can result in serious injuries and burdensome financial implications. Even when the negligent driver is known, recovering compensation can be stressful. Needless to say, the situation can become even more complicated when the reckless driver leaves the scene of the accident.
Fortunately, Decatur hit-and-run accident attorneys at The Super Lawyer can help you understand other options for recovery and put you in the best position to obtain maximum compensation. We are ready to handle everything from start to finish, including collecting proof that you suffered serious injuries and handling communication and negotiations with your insurance company. We'll take care of your hit-and-run accident case – you just focus on recovering.
Contact Our Decatur Hit and Run Lawyers Today!
The issues you face following a hit-and-run accident are complex and overwhelming. But there are options! By working with a trusted attorney with expert knowledge of Georgia hit-and-run accident claims, you can understand your options and pursue the compensation you're owed. To learn more, call The Super Lawyer at 404-574-4308 to book your free no-obligation consultation.