Auto accidents occur with alarming regularity throughout Georgia and are usually due to negligent or reckless motorists. Even a seemingly small crash can leave you with injuries that have the potential to affect your health and wellbeing. Our Decatur whiplash injury lawyers at The Super Lawyer are here to help accident victims get the maximum compensation.
Whiplash is one of the most common forms of auto-related injuries. This form of injury can result in a wide array of health problems that may last for weeks, months, or even years, making it difficult to work, earn a living, and enjoy life like before. Medical treatment and physical therapy can be costly, resulting in additional burdens during recovery.
If you or a loved one experiences whiplash from an accident caused by another motorist, you may be eligible for compensation in Decatur through a personal injury lawsuit or insurance claim. For assistance, contact our Decatur car accident lawyers at The Super Lawyer. Call us today at 404-574-4308 for a free, no-obligation consultation!
What Is Whiplash?
Whiplash is a form of neck injury that occurs when your neck is jerked forward or backward following a crash or collision. According to the Insurance Institute for Highway Safety, as many as 800,000 motorists and passengers experience whiplash injuries every year. These injuries represent a third of insurance claims. In addition to injury to the neck muscles and tendons, whiplash can also lead to damaged discs, fractured vertebrae, and torn ligaments.
The Common Symptoms of Whiplash
Some of the common whiplash symptoms include:
Neck Pain
This could range from mild to severe. Neck pain can be found in one spot, a general area, or even make its way down the shoulder into the arm or hand. Neck pain resulting from whiplash is generally caused by muscle strains or ligament strains. However, it can also be caused by injuries to bones, joints, discs, and nerves.
Neck Stiffness
Reduced neck range of motion or stiffness could be a result of pain, mechanical issue, or tightening of a muscle.
Neck Instability
This is a whiplash symptom that usually results from torn or stretched soft tissues like ligaments. However, neck instability could be due to a fracture.
Headache
A cervical spine joint or nerve irritation or a neck muscle tightening may lead to headaches.
Upper Back/Shoulder Pain
If your neck's soft tissues like ligaments and muscles are strained or torn during whiplash, that pain could also be felt in other soft tissues in your shoulders and/or the upper back.
How Long Do Whiplash Symptoms Last?
Most of the neck pain disappears within a few days or months. However, research shows that between 12 to 50 percent of whiplash victims still experience persistent pain after a year. This lingering may be the case if:
Pain develops immediately after the accident
You've experienced severe pain from the start
The pain shoots into the arms or fingers
You have neurological symptoms like memory loss
The more severe the pain following the injury, the higher the chances of acute neck pain developing into a chronic issue.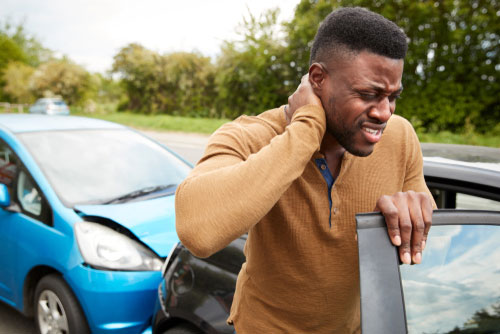 What Are the Steps to Take to File a Personal Injury Case for Whiplash?
Knowing what to do following a whiplash injury is vital both for your overall health and well-being as well as the chances of getting fair compensation. The vital steps to take include:
Seek Medical Attention
When you have been involved in an accident, it is important to seek instant medical attention. This may involve going to the ER or your primary care clinic. Although numerous symptoms and conditions don't become apparent after an accident, the worst symptoms can be alleviated or prevented through an early examination. In addition, early medical records act as evidence with the insurance provider or judge if a lawsuit becomes necessary down the line.
Keep Detailed Medical Records
It is important to keep the relevant bills and receipts for every medical appointment, test, and other expenses related to treating your neck injury. If your whiplash claim is successful, you will get an adequate settlement to cover these expenses.
It is also advisable to get copies of your medical records from all the practitioners you visit, including test results, doctor's notes, and prescriptions. This is important for documenting all injuries sustained.
If possible, also get medical records from before the accident. This will reveal the change in your condition after the accident and show that your injuries aren't due to a preexisting condition.
Document the Accident Scene
If possible, ensure you take photos and videos of your injuries and the accident scene. Also, take the contact information of the other party and any witnesses.
Act in a Timely Fashion
Once you seek medical attention, you'll want to initiate the claims process as soon as possible. The earlier you act, the better as evidence and confessions from witnesses may fade if you wait too long.
How Much Time Do You Have to File a Whiplash Claim in Georgia?
According to the state of Georgia's statute of limitations, whiplash injury victims typically have 2 years from the accident date to file a claim.
How Are Damages for Whiplash Injury Calculated?
Compensation amounts for whiplash injuries vary depending on several factors. The primary ones include the severity of your injury and how long it's expected to last. Some injuries might be minor and heal on their own within a few weeks, but others could be severe, and call for extensive medical treatment.
A reputable Decatur whiplash injury lawyer from the Super Lawyer will be able to figure out how much settlement you deserve. Some of the ways to get compensated include physical therapy, doctor visits, lost wages, emotional distress, pain and suffering, rehabilitative services, etc.
Do I Need a Lawyer to Help File a Lawsuit?
Given the complexity of personal injury cases, it's advisable to hire a qualified whiplash lawyer in Decatur, GA. The team at The Super Lawyer will help you in every step of the claims process from case preparation to settlement negotiations and even representation in court if necessary.
Hire a Decatur Whiplash Injury Lawyer Today!
If you have been the victim of whiplash due to the negligence of another party, do not hesitate to contact us by calling 404-574-4308! We handle cases on a contingency basis, so there are no upfront legal fees. In fact, you only pay us if we unless we recover compensation for you. Let our team at The Super Lawyer seek the justice and compensation you deserve!