Accidents involving large commercial trucks in Georgia aren't that rare with recent statistics showing that the state ranks fourth in the country for big rig/tractor-trailer accidents. As a Decatur resident, chances are you have been involved in a truck accident or know someone who has.
If you have been involved in an accident with a large truck and are seeking compensation for your injuries and damages, get in touch with an experienced Decatur truck accident lawyer for help pursuing a personal injury claim.
As the top auto accident attorneys in Decatur, we at The Super Lawyer are committed to delivering professional and reliable legal advice by providing personalized and professional services to all our clients. We understand that no two cases are similar and neither is the amount awarded as compensation, which is why we are dedicated to ensuring that all our clients receive the best possible payout for their pain and suffering.
Our truck accident attorneys are skilled and professional legal experts with the knowledge, experience, and aggressiveness required to ensure you get well compensated. Get in touch with us for a chance to have your case reviewed for free by our Decatur truck accident lawyer. Call 404-574-4308 now and schedule a no-obligation consultation today!
Truck Accident Statistics in Georgia
According to the FMCSA (Federal Motor Carrier Safety Administration), there were over 107,000 injury-causing truck accidents in America in 2018. Of these, over 4,400 accidents involved serious and fatal injuries.
That equates to a very large number of people who died or got seriously injured in accidents involving trucks. Apart from these injuries and deaths, think about the number of people affected by truck accidents – co-workers, friends, loved ones, employers, etc.
According to data shared by Georgia's Office of Highway Safety:
In 2016, the state ranked 4th in the country for accidents involving large commercial trucks.
Truck accidents in Georgia claimed 216 lives in 2017 with 135 deaths being recorded in 2018.
24 percent of all fatal truck accidents in the state were a result of drunk driving.
50 percent of all truck accidents in the state involve out-of-state truck companies.
The rate of fatal large commercial truck accidents in the state has increased considerably over the last ten years.
57 percent of Georgia truck accidents happen in rural areas while 33 percent of accidents occur in urban areas.
What to Do After a Truck Accident?
Knowing and following the steps you need to take after being involved in a truck accident can help protect your rights and ensure you receive the compensation you deserve for your injuries and damages. As a victim, here are some of the things you need to do immediately after being involved in an accident with a commercial truck.
Call 911
Get in touch with medical emergency response teams and the police and notify them of the incident. If you aren't able to but are conscious, ask somebody else to make the call.
Do Not Leave the Scene of the Accident
Make sure you remain at the accident scene until police arrive so you can help them create a report of the accident. In the meantime – that's if you are physically able – provide assistance and first aid to others involved in the accident.
Document the Scene and Speak With Witnesses
Take photos and videos of the accident, damage caused, and injuries sustained. Documenting things road signs, debris, road conditions, and the vehicle(s) involved can help provide the evidence you need to build a strong case against those responsible.
If anyone witnessed the accident, collect their names and contact information and ask them if they'd be willing to testify on your behalf if requested.
Get Medical Treatment
Make sure you visit a hospital or doctor and have your injuries checked even if you believe or feel like you didn't sustain any injuries. You need to let a professional examine you as it'll not only dispel any fears but also allows for the creation of a medical report that can be used to prove damages.
Contact a Lawyer Right Away
Contact a Decatur truck accident lawyer as soon as you can and have them handle the case for you. At The Super Lawyer, we are dedicated to protecting your interests and rights and can help ensure that the person or people responsible for the accident are held accountable for their actions. Call 404-574-4308 now for legal help and counsel.
What Are the Truck Accident Liability Laws in Georgia?
To protect the lives and well-being of other road users, the country's federal and state governments take strict measures to regulate how trucks are driven and operated on the road.
Georgia, like most states in the country, uses the same FMCSA (Federal Motor Carrier Safety Administration) regulations the federal government has put in place with the only difference between them being how they are named. For instance, federal rules are denoted as 49CFR § 390.4, while the rules in Georgia are denoted as DPS1-390.4.
These laws define commercial motor vehicles as:
Any vehicle that's intended or used to carry over eight people, including the driver.
Any vehicle with a gross combined weight rating, gross vehicle weight, or gross vehicle weight rating of over 10,001 pounds.
Any vehicle that's designed to transport over 15 passengers, driver included, and isn't used to transport commuters for compensation
Any vehicle that's used to transport materials deemed as hazardous
If you'd like to learn more about truck accident liability laws in Georgia, contact The Super Lawyer for more information.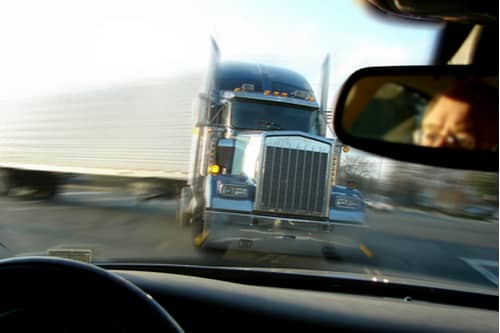 How Can a Decatur Truck Accident Lawyer Help Me?
Having a professional Decatur truck accident lawyer handling your case has its benefits. The main aim of any truck accident attorney is to ensure that you get the compensation you deserve and need, and for that to be possible, he or she will have to go above and beyond their means to make sure your case is successful. Some of the ways our truck accident attorneys can help include:
Investigation
Once you get in touch with us, our attorneys will start investigating the accident – so the sooner you contact us, the earlier we can start investigations. It's in your best interest that you don't take too long before contacting us since the driver's insurance provider or the trucking company will be quick to send experts to the accident scene to look for anything they can use to limit or deny your claim.
Filing a Claim
The information and evidence we gather during our investigations are what we use to lay the grounds for a strong truck accident claim lawsuit. Our attorneys understand Georgia's truck accident claims process and will ensure that your case is prepared and filed on time so you stand a better chance of receiving compensation for injuries, damages, and losses sustained.
Negotiations
The at-fault party will certainly have their lawyers and insurer overseeing their defense case in a bid to minimize the payout. As a result, there is a chance that they will approach you and try to threaten you to accept a lowball settlement or they'll deny your claim.
However, with an experienced and reputable Decatur truck accident lawyer from The Super Lawyer by your side, you can rest assured that no matter what antics and tactics these people use, we will be there to negotiate terms and ensure that you receive the most favorable outcome.
Litigation
Should negotiations between you and the defendant's insurance provider fail, we are ready to file a lawsuit and have the matter decided by a jury or judge. Our attorneys are professional, experienced, and aggressive litigators whose main objective is to prove fault and ensure that you are fully compensated for your pain, suffering, and losses.
What Types of Compensation Can You Receive in Georgia?
Federal and state laws give truck accident victims the right to pursue economic and non-economic damages with the possibility of pursuing punitive damages against those responsible.
Economic Damages
Economic damages are generally offered as a means to recover losses that you experienced after the accident and which have a monetary value. Damages covered include lost wages, medical expenses, property damage, etc.
Non-Economic Damages
Non-economic damages, on the other hand, are offered to recover any losses that don't have monetary value but whose impact on your life is significant. Damages covered include loss of consortium, physical, emotional, and mental damage, pain and suffering, etc.
Punitive Damages
Punitive damages are generally pursued as a way to punish the wrongdoer for their actions. We may request the jury or judge to consider punitive damages if, through our investigations, we've determined that the defendant's actions were out of negligence or pure gross indifference and that they need stiffer punishment for their deeds.
How Much Is My Truck Accident Claim Worth?
Since each case is unique, there isn't a definite figure for how much a truck accident claim is worth. In most cases, a variety of factors – like type and nature of injuries sustained, if the injuries are short or long term, if you've missed work due to your injuries, and the amount of damage caused – are considered when determining the real worth of your claim. To get an idea of how much your claim might be worth, get in touch with us today.
Is There a Deadline for Filing a Claim in Decatur, Georgia?
In Decatur, Georgia, you have two years from the day the accident happened to file a claim. Should this period end before you've filed your claim, then you lose your power to seek justice and compensation for your injuries and losses. If your claim is against any local, state, or national agency, then please note that you only have six months to file the claim.
How Is Fault Determined in a Truck Accident in Georgia?
Georgia follows what's known as the comparative negligence rule when determining how much a victim should receive as compensation. You can still collect, even if you were partially at fault, but only if you were less than 50% at fault. Your compensation for the motorcycle accident claim will also be reduced based on the amount of fault.
You, as the truck accident victim, need to prove fault to be eligible for compensation. In the state, "fault" is determined by proving four essential elements:
Duty of care: You'll have to prove that the person driving the truck, the truck company, or any other responsible party owed you a duty of care.
Breach of duty: You'll also have to prove that the person driving the truck, the truck company, or any other responsible party breached their duty of care to you.
Causation: You'll have to prove that the other party's breach of duty is what led to the accident that injured you.
Damages: Finally, you have to show how you suffered damages like injuries and expenses.
Can a Lawyer Prove That the Truck Driver Was Careless?
Yes, they can! For an attorney to prove that the driver of the truck was negligent, he or she must prove that the driver or the responsible parties failed to meet the four distinct elements of determining fault.
Who Can Be Held Liable?
People that can be held liable for a truck accident in Georgia include:
The Truck Driver
If the person who was driving the truck violated traffic rules by driving while intoxicated, distracted, or fatigued, then he or she can be held responsible for the accident.
The Truck Company
If the driver is an employee, our attorneys will consider if they have the right qualifications to operate a commercial vehicle; if they've received sufficient training; and if the employer pressured them to work for long hours without rest.
Loading/Shipping Companies
If the accident was a result of overloading or an improperly secured load, then the shipping/loading company may be held responsible for damages and injuries you sustained.
Truck Manufacturers
If the reason why the accident happened is a faulty or defective part, then the company that manufactured, distributed, or sold the truck may also be held liable for causing you harm.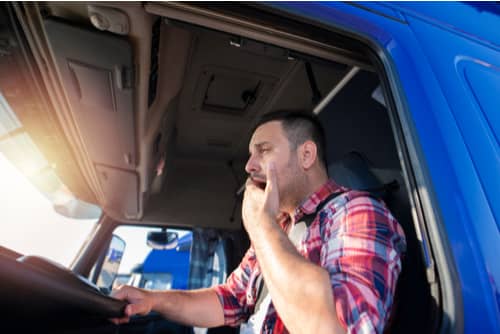 Most Common Causes of Truck Accidents in Georgia
Some of the most common causes of truck accidents in the state include:
Driver Fatigue
Most truck accidents are a result of driver fatigue. Fatigue, which can be caused by a lack of adequate rest, long working hours, and overexertion, can lead to the driver sleeping behind the wheel, leading to them causing an accident.
Distracted Driving
This is when the person operating a vehicle focuses on other things other than the road. Common causes of distracted driving include fiddling with the radio or texting while driving.
Reckless Driving
Driving recklessly is a serious traffic offense, especially for commercial truck drivers, as it puts the lives of other road users at risk. Examples of reckless driving include speeding, unlawful overtaking, and distracted driving.
Driving While Intoxicated
Operating a vehicle while intoxicated or under the influence of alcohol is one of the most common causes of truck accidents in America. If you were injured or lost a loved one in a drunk driving accident, contact our attorneys today at 404-574-4308!
Poor Road Maintenance
Poorly maintained roads also play a major role in increasing the chances of a truck accident occurring. When poor maintenance is the cause of your accident, you reserve the right to sue the federal or state agency that's tasked with maintaining the road.
Other factors that may cause or lead to a truck accident in Georgia include:
Inexperienced or poorly trained drivers
Improperly secured or oversized freight
Equipment malfunction and a lack of truck maintenance
Let an Experienced Decatur Truck Accident Lawyer From The Super Lawyer Help!
If you've been involved in a truck accident and want help pursuing a compensation claim, then you've come to the right place. At The Super Lawyer, we consider everything that may have caused/lead to the accident so we can determine how much (in damages) you should pursue. Our attorneys have the expertise, knowledge, and experience needed to fight for your rights and ensure that you receive the compensation you need and deserve for your injuries and damages.
If you need help with your truck accident claim, get in touch with us today and let us help you prepare a rock-solid case against the responsible parties. To learn more about the accident claims process in Georgia and how we can help, call 404-574-4308 now to book a no-obligation consultation with a professional Decatur truck accident lawyer.